A Healthy Child Begins With A Smile!
Thank you for visiting the website of Dr. Kylene Fernandez. Our site provides important information about our practice that will help you become more familiar with pediatric dentistry. Our office is committed to providing your child with the highest quality of care. We will make every effort to ensure that your child's visits with us are comfortable and informative. We strive to make each child feel at ease in an environment dedicated purely for them. Dr. Fernandez and her staff develop one-on- one relationships with patients and their parents.
Roll Mouse Over Image To View Fun Facts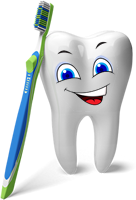 Brushing
Use a toothbrush with soft bristles and a small strip of fluoride toothpaste. When you brush your teeth, move the brush in small circular motions to reach food particles that may be under your gum line. Hold the toothbrush at an angle and brush slowly and carefully, covering all areas between teeth and the surface of each tooth. It will take you several minutes to thoroughly brush your teeth…. 

Tooth Ache
Begin by cleaning around the sore tooth meticulously. Using warm salt water, rinse the mouth to displace any food trapped between teeth. UNDER NO CIRCUMSTANCES should you use aspirin on the aching tooth or on the gum. In the event of facial swelling, apply a cold compress to the area. For temporary pain relief, acetaminophen is recommended. See a dentist as soon as possible…


My children have been seeing Dr. Fernandez for almost 13 years, and we love and adore her! Best pediatric dentist around!
Dr. Ky is great with my kids! She and her staff provide excellent care! The best part about our visits is Dr. Ky's kindness and being greeted with her warm smile!
Dr. Kylene and her hygienist Jennifer were so accommodating, kind, and supportive with my daughter who was really nervous about having her cavities filled. They made the experience stress-free and afterwards made sure to celebrate my daughter's success at conquering her fear. We highly recommend Dr. Kylene and team!
Dr. Fernandez has been great with our children and always makes them feel comfortable and special. She is very friendly and our kids love her.
From the moment you walk through the door you are greeted with a warm welcoming from staff. I have a Daughter who is non verbal and is living with Autism. My Son is a typical 5 yr old boy and I couldn't be more pleased with how amazing Dr. Kylene and Staff treat both of my kids and their specific needs. Its rare to find a provider who is able to not only accommodate a wide range of needs, but to care so much about your kids and make going to the Dentist non stressful. I highly recommend Dr. Kylene, and her staff
Dr. Kylene and staff have been so kind and patient with my kids who previously were anxious about going to the dentist. She makes both parents and children feel at ease, no lecturing or finger pointing ever. I would highly recommend!